By Christy Turnipseed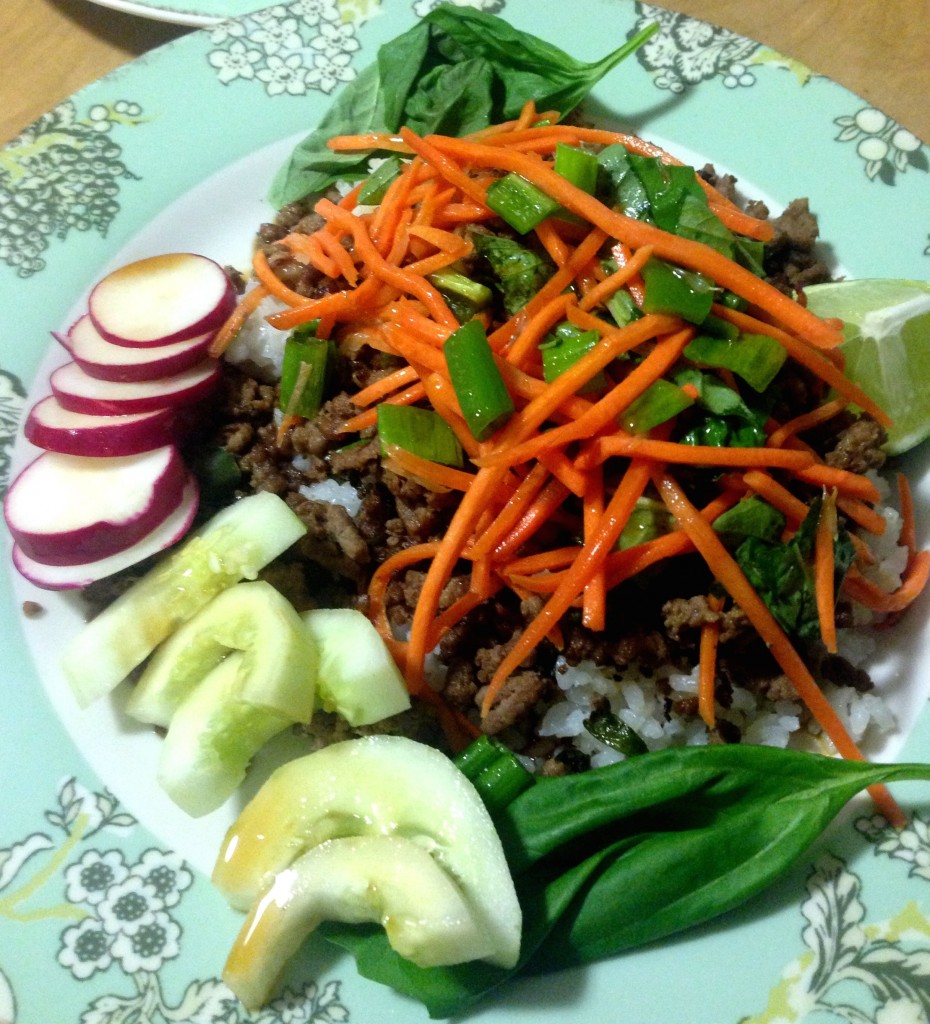 I love takeout, but sometimes it's just easier (and cheaper) to make it at home. This thai beef recipe is fast and easy meal to make during the week when things are hectic and you don't have much time.
Serve with simple white rice and sliced cucumbers and radishes and you'll think it's better then the take-out hassle.
Thai Beef with Basil
adapted from Bon Appetite 
ingredients:
2 Tbsp. vegetable oil, divided
4 garlic cloves, thinly sliced
1 jalapeño, seeded or not, thinly sliced for less heat if desired, divided
1 lb. ground beef
Salt and Pepper
1/2 cup chicken broth
3 cups fresh basil leaves, divided
1 cup matchstick carrots, or 3 medium carrots, julienned
4 scallions, thinly sliced
4 Tbsp. fresh lime juice, divided
3 Tbsp. soy sauce (or low-sodium)
1 Tbsp. fish sauce
1 tsp. sugar
Steamed rice, sliced cucumbers, radishes and lime wedges (for serving)
directions:
Heat 1 Tbsp. oil in a large skillet over high heat. Add garlic and half jalapeño and cook, stirring, until fragrant, about a minute. Add beef, season with salt and pepper, and cook, breaking up with a wooden spoon and pressing down to help brown, until cooked through and nicely crisped, 8-10 minutes. Add broth and 2 cups basil and cook, stirring, until basil is wilted, about 3 minutes.
Toss carrots, scallions, 1 Tbsp. lime juice, other half of jalapeño, 1 cup basil leaves, and 1 Tbsp. oil in a small bowl. Mix soy sauce, fish sauce, sugar and remaining lime juice in another small bowl until sugar dissolves.
Top rice with beef and slaw and drizzle with soy dressing. Serve with sliced cucumbers, radishes and lime wedges alongside for squeezing over.
Christy Turnipseed is Birmingham born and raised. She's a vintage jewelry designer for Lil' Seeds. She's a foodie, art and music lover and blogs at al.com and lifeofaturnip.com. She's on twitter@cturnip.