Loving Frank: A feminist historical fiction romance?
Book Review of Loving Frank by Nancy Horan
Review by Mandy Shunnarah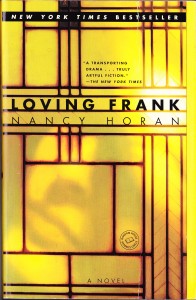 If you're like me, the idea of reading a historical fiction romance is more than a little gimmicky. It's the sort of book I'm almost embarrassed to be seen with or admit I've read. But there was something about Nancy Horan's novel Loving Frank that caught my eye, and I thank the book gods it did.
Loving Frank transports the reader to early 20th century Oak Park, Ill. (today a swanky Chicago suburb). Mamah Borthwick Cheney is in a complacent, yet loveless marriage and the irreverent and brazen Frank Lloyd Wright intrigues her. As Frank designs the Cheney's family home, he and Mamah connect on multiple levels. In 1907, the pair decides to leave their families and start a life together in Europe. Over the course of several countries and 200 pages, the reader enters the couple's tumultuous, hopeful, and deeply complicated relationship. In a time when women were still thought to be the property of the husbands, Mamah is guilted by her friends and family to return home at the expense of her happiness. This is further complicated by the media's obsession with Frank's architectural idiosyncrasies and family abandonment. Then, at the moment when freedom from the media's blitz and incorporating each of their families into their relationship seems feasible, the sort of "divine retribution" their families and the media predicted occurs–and the hopscotch trail of foreshadowing is so masterfully rendered that you'll read the chapter again and again.
I picked up Loving Frank because I was looking for a summer "beach read," so I was surprised to find how much I learned from the book. Horan spent years researching Frank Lloyd Wright's architecture, family, and travels, as well as the little information there was to be gleaned about Mamah Borthwick Cheney, and it shows in her work. Many of the letters and newspaper articles were taken from Wright and Cheney's archives. Far from reading like a history book, Loving Frank is an exercise in being intimately connected with strangers from the past.
Yet, Loving Frank doesn't read like your typical steamy page-turner either. You won't find any erotically descriptive scenes or unwarranted infatuation. Frank and Mamah fall in love for the most authentic and simplest of reasons: they understand each other. Their mutual understanding is spiritual, philosophical, artistic, and, above all, intellectual; it's an understanding deeper than bodily admiration and the obligations of family. When asked how they can abandon their domestic duties, they answer that they wish to "live honestly." The pair would rather spend a life together yearning for peace of mind from the public than a quiet life apart yearning for happiness in their failed marriages.
In this unexpected way, I found Loving Frank to be an oddly feminist novel. Mamah exudes the sort of unabashed realist feminism that the fiercely independent singletons often wish to condemn. Because Mamah is steadfast in her course to live honestly, never bending to the will of the society that damns her, I find her to be the accessible type of feminist that is militant and heroic in her own way, commanding respect with her lifestyle. Loving Frank's plot may hinge upon a romantic relationship, but the protagonist Mamah is made of stronger stuff.
If you're looking for a book that's simultaneously surprisingly educational and pleasantly light, add Loving Frank to your shelf.
Do you have a book you'd like See Jane Write Magazine to review? Would you like to write a book review for our website? Send book review pitches to seejanewritemag@gmail.com. 
Mandy Shunnarah is a freelance writer and editor, and an aspiring novelist. When she's not writing, she can be found reading, learning to letterpress, watching Downton Abbey and Game of Thrones, and finding stray cats to cuddle with. Follow her on Twitter at @fixedbaroque and @awhitewrites.